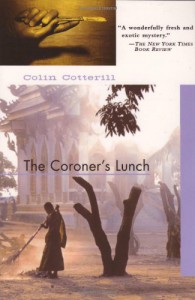 "Fascinating" is the best word that that I come up with. For a second adjective I would choose "original." I really enjoyed this mystery and have already bought the second in the series.

Where to start? This book worked for me on so many levels.

Set in the 70's (post-Vietnam) in communist Laos our protagonist is a coroner. Mainly he pronounces deaths as "accidental" for the authorities who are philosophically and politically opposed to any death being classified as a murder---for murder as we all know, is a Western phenomenon, born of Western decadence---can't happen here, right? Add to this the fact that Laos simply doesn't have the resources to actually support a CSI practitioner and you have a very interesting situation when bodies start showing up with signs of homicide and torture, especially when the coroner doesn't care if his findings ruffle feathers. Our hero has to borrow any chemicals he needs from the hospital and corpses are kept fresh, sort of, with ice, and getting tests done is next to impossible, but he is determined and I found him to be heroic while at the same time quite realistic. I must add however, that he has a little help. The dead will communicate, in a variety of ways, to point him in the right direction in his investigations.

And it was a fantastic mystery. Several, actually----we are treated to several complete cases in this one novel, ranging from the simple to complex political intrigue. Add to this the most interesting cast of characters that I have come across in quite some time and a narrative voice that brings these characters alive in full compassion and humor. I found myself laughing out loud several times at the irony and truth of the circumstances as I was enjoying a look through a window into a fascinating world and culture. Sort of like a Kafka novel with a real hero if that makes sense.

In short, loved it. The next one is already on the TBR pile.